Here is our trendy selections of the year 2019 regarding kitchen layout and designs.
1- Matt finish
Even though glossy finishes are very attractive, Matt finishes are much more attractive especially in dark colors. It provides several advantages such as light absorption and softening the darkest colors like black. For instance, black matt perfectly match wood finishes.
2- Refined working drawings
Working drawings ultra-thin are now endorsing our kitchens by its purified forms. Thanks to innovative materials, today it is possible to refine working drawings from 3.9 cm to 1.2 cm!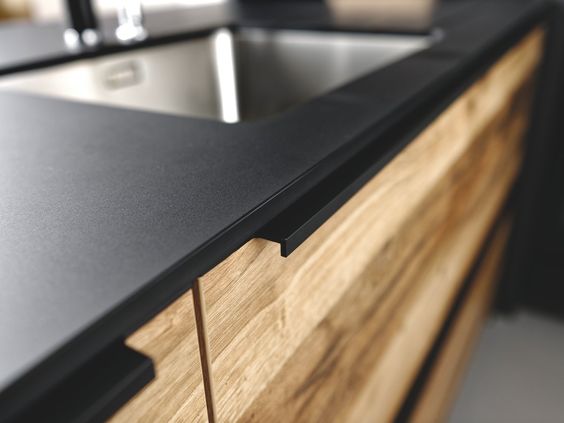 3- Urban jungle
The urban jungle trend is now available in kitchens as well, you can place your plants, vegetable plots for aromatic herbs, flower pots integrated within the furnitures… Yes! there's plenty of models to give your kitchen a "green touch".
4- Floor cement tiles
Floor cement tiles matches very well kitchen island and kitchen ground due to the attractiveness of the tiles especially when it contains unique patterns or trendy colors. Thus, it brings a particular touch to your kitchen and allows you to save some space through placing different ground cement tiles in empty spaces.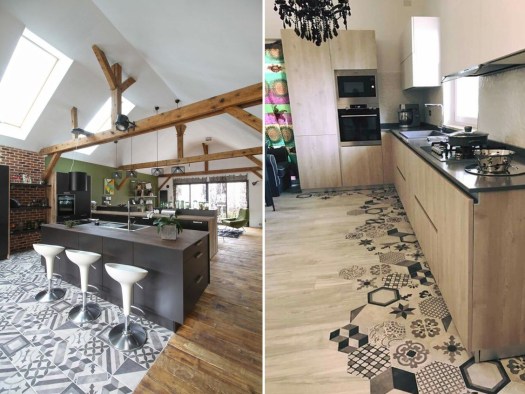 5- Painted credences
Painted credences is considered as a kitchen trend in 2019 reflecting one's personality due to the fact that it can be made with graphs, figures, plots, patterns or hexagonal and geometric forms and thus spreading your own traits in your kitchen!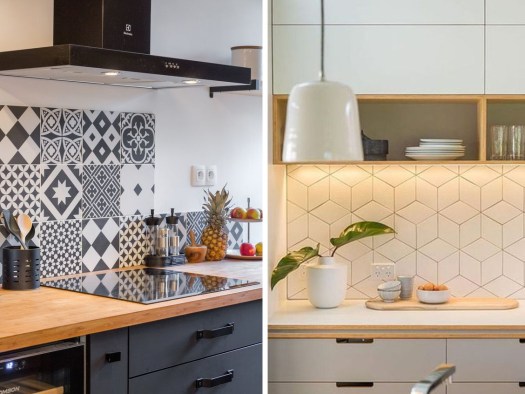 6- Glass panels
Mixing glass panel and wood in its natural state is very popular considering that industrial vibes are trendy in 2019. On the other hand, glass panels are a bright solution whenever you have non-used space in your kitchen through placing black, white or wood colored panels.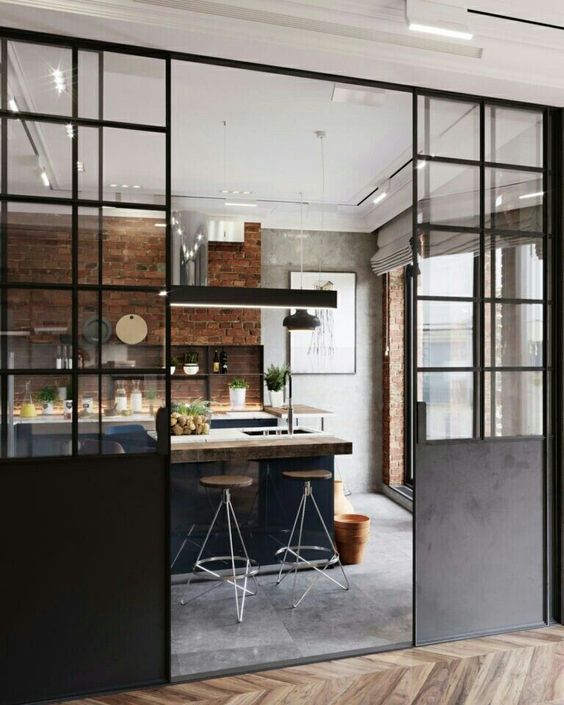 7- Showcases
The new generation of showcases are a perfect match to modern kitchens especially with smoked or matted effect. In the following picture, showcases are surrounded with metal, having both of knob and frame in matted black.